Valrhona Chocolate: The Grand Cru of Chocolates
If you, like so many others, are addicted to Café Nuovo confections and desserts, you've surely seen mention of Valrhona chocolate in our creations.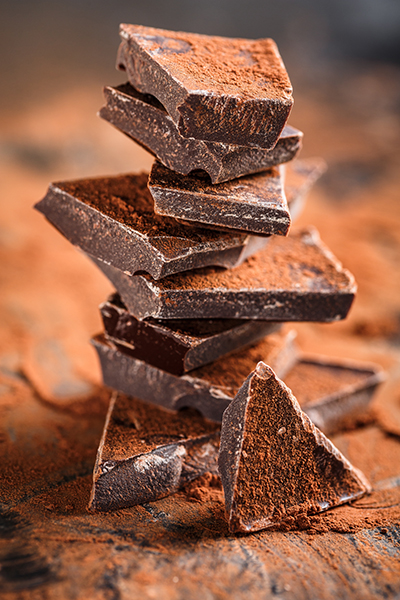 Valrhona has been producing the world's finest chocolate in the small village of Tain L'Hermitage, France, since 1922. In the same way we have dedicated ourselves to using the finest ingredients, Valrhona has dedicated itself to the creation of unique, artisan quality chocolate with complex, balanced and consistent flavors.
The range of unique and recognizable aromatic profiles is the result of perfecting techniques for enhancing the flavor of rare cocoa beans, grown on land masterfully selected for its "terroir". Yes, "terroir" is a wine term that recognizes that the land and the environment something is grown in is a determinant of its quality. For that reason, Café Nuovo, like so many pastry chefs and discerning gourmets around the globe, consider Valrhona chocolate to be the best that chocolate can be.
Very few chocolatiers go so far as to become growers. That's another reason Valrhona never disappoints. They have mastered all aspects of the industry, operating their own plantations in Venezuela and in the Dominican Republic in the best "terroir".
To guarantee the consistency of the taste qualities and flavor potential of their chocolates, Valrhona has taken unique steps in mastering taste. They use other wine terms, such as "gran cru", to identify their finest creations. Their unique range of 16 "grand cru" chocolates is the result of expertly selecting, blending, and refining the finest cocoas, favored for their aromatic potentials…some with delicate notes of vanilla, others with the aroma of caramel and salted butter, still others intensely rich or bittersweet or velvety with delicate flowery or toasty notes.
We hope you have the opportunity to taste the subtleties and the difference the next time you dine with us.